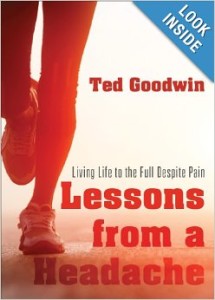 Talk about inspiring.
I never truly understood the word, inspiring, until I read Lessons from a Headache by Ted Goodwin.
In his short biography, Ted talks about some life lessons he learned from the chronic daily migraine headache; lessons that could be applied in any situation.
For over three years, Mr. Goodwin has been dealing with chronic migraine. He has looked for help from his doctors and after many hospitalizations and painful shots, the migraine is still a daily presence in his life. It would have been so easy for him to give up the fight, to just lay down and say, "I can't", but Mr. Goodwin did not want to stop living his life. Instead, he took a different approach. He did what most of us would not do when dealing with such paralyzing pain; he stopped trying to defeat it and he simply moved on with his life. He refused to let this pain stop him from living.
Ted's faith is so great and unshakable that he looks at everything in such a positive way. He listens to that inner voice that so often goes unheard and ignored and he trusts it without a question, because he knows that that voice is God's will leading him through the darkness and because of this fact, Ted has accomplished things he never even dreamed of accomplishing, such as publishing a book or running marathons.
The message that I took from this book is this: As long as you have strong faith and people who love and support you in your life, there's absolutely nothing in this world that could stop you from accomplishing great things.
I am so happy to report that Mr. Goodwin finally agreed on giving me an interview. Despite of his constant pain, he remains positive and funny.
Why don't you begin by telling us a little about yourself?
I'm a husband and father. My wife Lynette and I have been married 12 years. Our son Kody is 21 and is in college. Yes you read that right married 12 with a 21 year old son. I adopted Kody when we got married.
When did you decide you wanted to become an author?
Never…never in my wildest dreams did I ever expect to be an author. I started writing at the suggestion of my wife to remember all the lessons I have learned over the last 4 years of dealing with a "chronic daily migraine." I had jotted down about eight lessons and Lynette said I should tell more of the story behind them. I wrote lesson one and two and then…Oh yeah I forgot about that, 19 lessons and 30 days later I had written "Lessons from a Headache."
Do you have another job besides writing?
I have been working in my family's business since I was eight. The last 19 years I have managed Kozy Marina on Grand Lake St. Mary's in Celina, Ohio.
Were you an avid reader as a child? What type of books did you enjoy reading?
No I hated to read as a kid. I stuttered so bad as a child my parents almost put me in the slow learning classes. Now people can't get me to shut up.
How would you describe your creative process while writing this book? Was it stream-of-consciousness writing, or did you first write an outline?
I just wrote. I believe it was truly inspired. For me to sit down and write is a miracle in itself and add my A.D.D. on top of that it was something that just flowed out of me. No matter where I stopped I could just pick it up right there and continue along with that line of thinking. Which for me….Hey look a squirrel.
Did your book require a lot of research?
I used a lot of quotes in the book so there was some research for certain quotes as I looked to fit to that lesson. Some of the quotes used are very dear to my heart and again flowed right out. Others I searched for ones that best fit.
Why do you write?
I know my high school English teacher will probably laugh when she hears that I got a book published. This was not a talent that I had in school, so it has been a surprise and a great blessing. I have started to blog and I find it a great place to express myself and vent sometimes where I wouldn't have done this before. Writing is cheaper than therapy.
What kind of promotions do you do for your books?
Speaking engagements are the best for me. I love to share my story and let others hear that they can have hope no matter the situation.
What is the funniest/most embarrassing/scariest story from one of your books signings or events?
I live in Ohio so everyone is Buckeye crazy. I had a pastor introduce me on a Sunday morning by saying, "The only thing I can find wrong with Ted is he is a Penn State fan." I responded with, "We are all born PennState fans, then we sin and start cheering for other teams."
If you could have been the servant to any famous person in history, who would that be and why?
Wow…I love history but there is only one person who I would want to serve and I still try to do that now in how I live my life and that would be Jesus Christ my Lord and Savior.
What is(are) your favorite book/author(s)? Why?
Anything by Andy Andrews. I love his story telling ability and the life lesson he makes seem so obvious even though you have never heard them before.
What book are you reading now?
"Winning the War Within" by Charles Stanley
Where do you find ideas for stories?
Life. Life is the best storyteller and there are so many great stories in our lives and those around us.
Do your pets help you with your writing?
Actually, the keyboard is lying on my cat Spirit right now, as I write.
You can connect with Ted on Facebook, GoodReads, LinkedIn, or subscribe to his blog at: http://ignitetruth1.wordpress.com/
His book Lessons from a Headache is available for purchase anywhere books are sold. CLICK HERE for an autographed copy.
______________________________________________________________________________________