Chicago author releases sequel to war and military novel nationwide
CHICAGO — This week marks the nationwide release of author Sanela Ramic Jurich's new thriller novel, "Haunting from the Past," the sequel to her previously released  war and military novel, "Remember Me."
In "Haunting from the Past," readers are reintroduced to Selma, a respected business woman, living in Chicago with the love of her life and their son, and tries to move on and recover from the horrible experience she had gone through while living in Bosnia in 1992—where she and her parents had found themselves targets of the Bosnian war and where Selma had lost nearly all those she loved, was abused by those whom she once trusted, and had witnessed prejudice at its ugliest. However, the hell from which she thought she had finally escaped found her in America and started haunting her again, reminding her that there was unfinished business someplace else.
From the outside, it looks as if she finally has it all; career and family many people could only wish for. She thinks she is the luckiest person on the planet who had survived and escaped hell. One day she receives a phone call that forces her to go back to the place she had left behind almost two decades before. She had promised never to go back there, but now, she finds herself in a desperate situation from which there is no way out. She goes back to face her demons once again. Will this trip finally, push Selma over the edge and be the end of her? Who knows, it might even help her get some kind of conclusion. Readers will follow Selma's journey back to the past through despair, hatred, love, hope and peace in author Jurich's "Haunting from the Past."
Published by Tate Publishing and Enterprises, the book is available through bookstores nationwide, from the publisher at www.tatepublishing.com/bookstore, or by visiting barnesandnoble.com or amazon.com.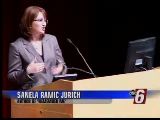 Sanela has been featured on
abc6 News in southern Minnesota.
As well as in Skyline: ""REMEMBER ME" is the title of local author Sanela Ramic Jurich's book about growing up in Bosnia. It tells of love, death, horrendous situations, brutality and faith."
Sanela's articles have appeared on Yahoo! Voices and Yahoo US News!

What others are saying: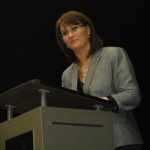 "Sanela is a powerful speaker, with the ability to mesmerize her audience with every word she says as she relays her horrific personal struggles during the Bosnian War. In addition, her ability to take the true life stories of the people she knew, and incorporate them into a love story, is amazing. I highly recommend this outstanding author to present to any student or community group, and I encourage anyone needing to know that something good can come from something horrible to read her book Remember Me.  You will not be disappointed!" – Judy Kingsbury, Executive Assistant to the President Rochester Community and Technical College
"Ms. Jurich is a master story teller with a historically important background that must be read in its entirety to be appreciated – Don't worry, once she's introduced, you'll hang on every word." – iSTAR
"Unforgettable!" –Readers Favorite
"Kudos to the author" – Lindsay and Jane's Views and Reviews
"Readers will discover that Jurich writes with the credibility and authenticity of a person who witnessed and experienced what took place in the Balkan countries during the 1990s." –Gregory S. Lamb, Author of The People in Between
"I was hooked on Jurich's story from the beginning…" -Lisa Tortorello, Author of My Hero my Ding
"I did an interview for this blog with the author, Sanela Ramic Jurich. The responses to my questions put to this author stunned me. After reading the book, I was even more amazed." Says author Elaine Littau in her blog.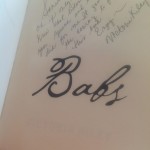 "Sanela, Oh, if only you knew what listening to your speech and book signing did for me. It gave me the courage to finish this book." – Victoria Riley, author of Babs
______________________________________________________________________________________
FOR IMMEDIATE RELEASE
| | |
| --- | --- |
| Contact: | Traci Jones, Marketing Representative |
| | Tate Publishing and Enterprises |
| | Phone: (888) 361-9473 |
| | E-Mail: traci@tatepublishing.com |
Tuesday, June 7, 2011
Chicago author portrays Bosnian Genocide in new novel
CHICAGO– In her new novel, "Remember Me," Chicago author Sanela Ramic Jurich portrays the brutality of the Bosnian Genocide, but reveals how God's hand restores the main character's life tenfold.   The book tells the story of fifteen-year-old Selma, who is just beginning to experience the power of her first love. Unfortunately, living in Bosnia in 1992, she and her parents soon find themselves targets of the Bosnian War, and her father is arrested by the Serb Army and held for questioning. In an attempt to protect her daughter, Selma's mother sends her to stay with her aunt.   Days after arriving, the city is attacked, her family members murdered before her eyes, and Selma is thrown into a concentration camp where she lives out her worst nightmare. After losing nearly all those she loves, being abused by people she once trusted, and witnessing prejudice at its ugliest, she isn't sure she even wants to stay alive. The book offers readers a glimpse of the courage it takes to face one's attackers and whether love can blossom from beneath the rubble of war.   Published by Tate Publishing and Enterprises, the book is available through bookstores nationwide, from the publisher at tatepublishing.com/bookstore, or by visiting barnesandnoble.com or amazon.com.   Jurich moved to America from Bosnia in 1993 with the help of her aunts Nefira and Hida. She now lives in Chicago, Illinois, with her husband, Todd, and two sons, Denny and Devin. "Remember Me" is her first novel.   For more information, visit sanelajurich.tateauthor.com. For promotional inquiries, please contact Traci Jones, Marketing Representative, at (888) 361-9473 or send an email to traci@tatepublishing.com.
###
Looking for an interesting speaker for your group's next meeting or event? Look no further. Email Sanela (sanela@sanelajurich.com) to see if she is available!
book or other retail stores
libraries
writing & publishing conferences
book fairs & festivals
historical societies
Media Interviews
Sanela is available for interviews by editors, reporters, show hosts and bloggers about her books and their topics.
in person at location that suits you
In your broadcast or cable/satellite studio
via telephone
through email (sanela@sanelajurich.com)
Visit our About Sanela page for more.
Free stuff HERE!
Click HERE to purchase your own copy of Remember Me!
CLICK for more on books by Sanela Ramic Jurich.
Visit our GALERY!
Check out Sanela's new BLOG.
CLICK and find out how you can get a FREE electronic copy of Remember Me to read on your favorite eReader in just minutes!
_____________